 2023 Auto Show Poster Unveiled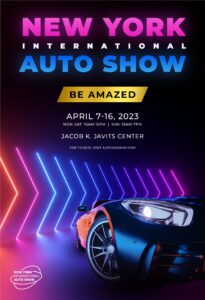 The New York International Auto Show is thrilled to announce the launch of the 2023 Official Show Poster, setting the tone for the 123-year-old event, which runs from April 7-16 at the Jacob K. Javits Convention Center in Manhattan.
This year's poster celebrates the rapid acceleration of automobile technology with a bold, high-performance vehicle extending out from the poster, with vibrant pink fonts and neon colors that draw the eye and convey energy and power.
"Visitors to this year's Show will experience the vibrancy of the auto industry like never before with gas-powered cars and trucks at the peak of their 125-year journey in terms of style, performance, efficiency, technology, and safety. At the same time, electric vehicles are pushing what is possible in the world of vehicle design and innovation," said New York Auto Show president Mark Schienberg.
"The poster reflects these two exciting parallel advances," he continued.
The 2023 New York Auto Show promises to be an incredible event, where attendees can explore the most extraordinary new cars, trucks, and cutting-edge technologies.