 HYUNDAI IONIQ 6 WINS 'WORLD CAR OF THE YEAR' AT THE NEW YORK AUTO SHOW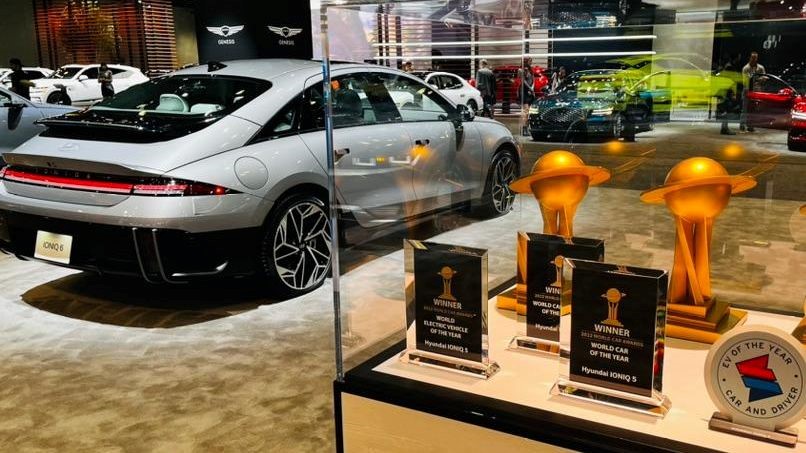 The 2023 World Car Finals concluded yesterday at the New York International Automobile Show with a triple win for the Hyundai Motor Company. The HYUNDAI  won the overall 2023 World Car of the Year title, the 2023 World Electric Vehicle as well as the 2023 World Car Design of the Year awards. Visitors to the New York Auto Show will be able to see, explore and ride in the new IONIQ 6 at Hyundai's Test Track April 7-16.
In addition, SangYup Lee, Executive Vice President, Head of Hyundai and Genesis Global Design Center, Hyundai Motor Company, was at the New York Auto Show at the awards ceremony to participate in a Q&A with media and receive his 2023 World Car PERSON of the Year trophy.
"This honor reinforces our commitment to be a global leader in vehicle electrification and will serve to embolden our efforts as a smart mobility solutions provider," said Jaehoon Chang, President and CEO of Hyundai Motor Company. "."
2023 marks the 18th year of the World Car Awards' partnership with the New York International Auto Show.
"We salute all of this year's finalists and are pleased to be part of the most important automotive awards program on the planet," said New York Auto Show president, Mark Schienberg. "For nearly two decades the partnership between World Car and the New York Auto Show has recognized the very best the auto industry has to offer. I think visitors to this year's Show will be amazed to see the World Car winner on the Show floor," he continued.
A jury of 100 distinguished international automotive journalists from 32 countries selected the winners by secret ballot based on their evaluation of each eligible vehicle as part of their on-going professional work. The vote results were tabulated by KPMG.
2023 WORLD CAR OF THE YEAR AWARD WINNERS
2023 WORLD CAR OF THE YEAR
• Hyundai IONIQ 6
2023 WORLD ELECTRIC VEHICLE
• Hyundai IONIQ 6
2023 WORLD LUXURY CAR
• Lucid Air
2023 WORLD URBAN CAR
• Citroen C3
2023 WORLD PERFORMANCE CAR
• Kia EV6 GT
2023 World Car Design of the Year
• Hyundai IONIQ 6